Fare la scarpetta: Questa espressione che indica l'uso di un po' di pane per pulire il piatto , soprattutto se c'è del sugo buonissimo. Un gesto da non fare al ristorante (o da fare con discrezione) ma perfettamente accettabile tra amici! Per non perdere la parte migliore!
(EN) Lit. "to make a little shoe"- Expression that indicates the use of a little bread to clean the plate, especially if there is some good sauce left. A gesture not to be done at the restaurant (at least not openly) but perfectly acceptable among friends! Not to miss the best part!
(FR) Lit. « faire la petite chassure ». Une expression pour indiquer l'utilisation d'un peu de pain pour nettoyer l'assiette, surtout s'il y a une très bonne sauce. « Saucer ».  Un geste à ne pas faire au restaurant (ou à faire avec discrétion) mais parfaitement acceptable entre amis !
Avete un tavolo libero? – "Per quante persone? È da sola?"- Sì sono da sola….
Ho imparato a mangiare da sola al ristorante solo da poco, da adulta…Quando ero ragazza lo detestavo.
All' inizio occorre farci l'abitudine. Portavo sempre con me qualcosa da leggere ,per darmi un tono.  Adesso mi sento libera e tranquilla.    Mi piace sedermi a guardare le persone intorno, mi immagino chi sono, mi faccio delle storie….Preferisco ancora mangiare al ristorante in compagnia ma ho imparato a saper godere di ogni piccolo momento….anche da sola.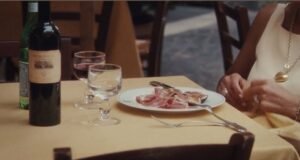 Oggi avevo intenzione di ordinare un insalata mista, un piatto "da signorine"… Poi ho letto nel menu: Antipasti : "prosciutto e fichi" , come dire no?
Per primo:"Pici all'aglione",una specialità toscana.  Sono da poco tornata dall'Inghilterra….ho proprio voglia di farmi un regalo…
Buonissimi! Ne valeva davvero la pena! Ma tutto quel sughetto rimasto nel piatto?
Mi controllo dal fare la scarpetta….al ristorante…una signora….insomma non si può….non si potrebbe …ma la tentazione è immensa…
Solo un pezzettino di pane, faccio la scarpetta lasciando un po' di sugo nel piatto e .. voilà…. con stile!
GLOSSARIO:
È da sola? = are you alone? on your own?
occorre farci l'abitudine  = one needs to get used to
per darmi un tono = to adjust one's attitude, pull oneself together
"da signorine"  = expression to say something is for the delicate ones
Ne valeva davvero la pena = it was really worth it!
insomma non si può….non si potrebbe= actually we can't…we couldn't…